We took advantage of one of the days that Dan had off from work lately and took off for one last good day in the high country before it gets snowy and cold.
We left early and drove through Tacoma and Enumclaw to the North-Eastern entrance of Mt. Rainier National Park. We took the quick, right turn and headed up to Sunrise to have lunch. On the way up we saw some flowers, but once we got up to the top the season for flowers was over and everything was already well on their way to fall colors.
We had a little picnic in the parking lot and then Dan took off to do a small hike while Lucy and I stayed off the "NO DOGS ALLOWED" trails and walked around the visitor center and parking area. We looked through the telescope at the glacier and wandered around enjoying the sun and the views. Dan took these pictures on his hike: (as always, click on the picture to see a larger version and use your back button to get back here.)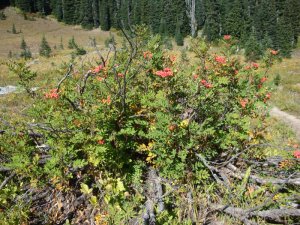 I kept seeing these bushes with yellow and bright red leaves with these giant red berries on them all over the place. They were gorgeous. We saw one later in the day that looked similar, but I'm not 100% sure it's the same bush.
However, if you know what these are, let me know!
We left Sunrise and headed up to Chinook Pass on the East edge of the park. We found a shady spot and left Lucy in the car while we walked around Tipsoo Lake. It's such an amazing and beautiful spot. I can't believe we haven't stopped here before.
While at Tipsoo Lake, we saw some interesting flowers all over this hillside. Again, too late in the year to tell what they used to be, but check out these seed pod things!! They were on a really woody stem with carrot looking foliage and at the end of that stem is a spongy pointed cone with these white fuzzy things sticking out. So beautiful!
We headed just a little further east on the highway up to the top of the pass where we parked and walked with Lucy a little ways South on the Pacific Crest Trail. I wanted Dan to see people crossing the bridge over the road, but instead I just took a picture of Dan up there while another car went by.
On our hike, I spotted some berries and we enjoyed my favorite kind of hike -the kind with yummy snacks! I love those late season purple stained fingers!
After our hike, we were back in the car and headed for home. Got back around 7pm. Saturday the clouds rolled in and the temperatures dropped. We spent the weekend finishing maintenance on our roof to be ready for the rains that start on Monday night. Here comes winter! I hope we're ready for whatever Mother Nature has in store for us this year. :)